[ad_1]

Chanel added new complexion products to the Les Beiges lineup and I've been head over heels obsessed! I have a full review + looks for you today! I've been wearing the foundation every day since I bought it and think it's going to be my go-to summer base.
I ordered these the second they launched online at Chanel.com and most of the blushes sold out almost immediately. I checked with the Chanel team and they said they're going to be restocked at some point but don't have a specific date at this moment.
Les Beiges Water-Fresh Complexion Touch
There are 16 shades of the new Les Beiges Water-Fresh Complexion Touch ($65 each for 20 ml/0.7 fl oz). I've been really loving the new foundation and my usual shade B40 is a great match. The formula has micro-droplet pigments suspended in a gel formula. This newer formula offers beautiful medium coverage with a lightweight feel, dewy finish and impressive lasting power.
It gives the skin a plump fresh glow in a healthy kind of way and I prefer it over the original Les Beiges Water-Fresh Tint which I found a bit too sheer for my taste.
below: new vs original
I've used this for over a week now and found the best way to apply it is to pump onto the back of the hand and mix with a brush or sponge. Breaking up the pigments and mixing them into the gel formula before applying to skin is the best way to get smooth flawless coverage.
The Les Beiges Water-Fresh Complexion Touch comes with a tiny brush and at first glance I suspected it would be a throw-away for me (it's itty bitty!) but tons of you messaged me telling me it's intended for concealing. I ended up trying it this week and was pleasantly surprised to find it perfect for blending cream product under the eye area or around the nose.
A look applying it on bare skin (moisturized first), ribbed tank by Reformation
Below Left: all over the face, Right: powdered with the Les Beiges Healthy Glow Sheer Colour in No 20 and with the Patrick Ta Major Dimension Eyeshadow Palette applied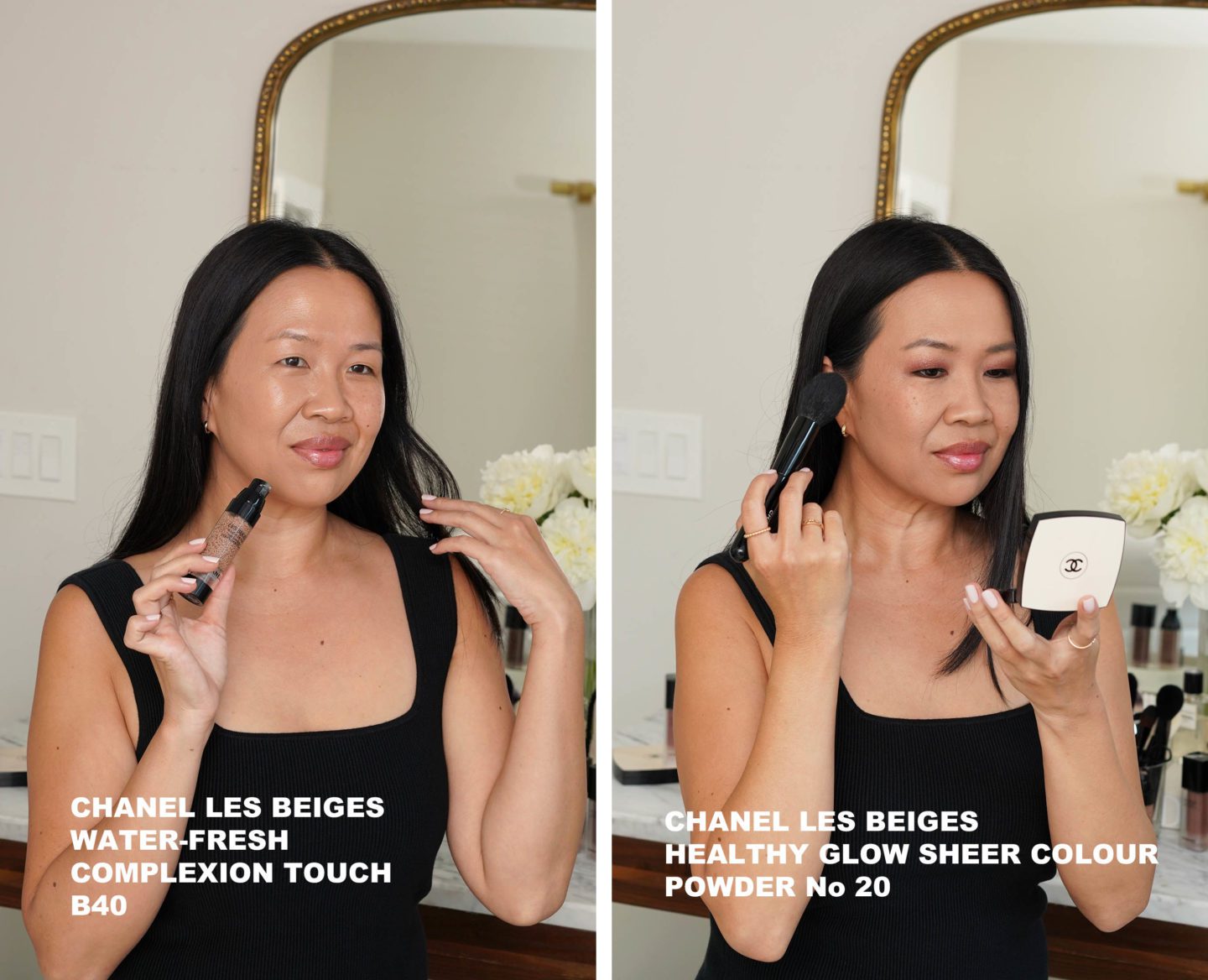 I've included a roundup of my favorite cream product brushes below including the Hourglass Vanish Foundation Brush, Chanel 2-in-1 Foundation Brush, Chanel Foundation Brush 100, Laura Mercier Crème Cheek Color Brush and beautyblender.
Les Beiges Water-Fresh Blush
There are 6 shades of the Les Beiges Water-Fresh Blush ($50 each for 15 ml/0.5 oz) and I was thrilled to see these finally landed in the US. After testing all six shades I have mixed feelings. They're beautiful but they take some time to apply and blend.
These blushes have the same micro-droplet formula as the foundation. Chanel calls it MicroFluidic Technology. The pigments break apart and melt into the skin upon contact to give you a healthy glow. Application is best if you pump on the back of your hand and blend with a brush. I'll take a brush and apply straight to the face and then blend with fingers. For me applying with just fingers doesn't give enough color payoff. With just a brush I can't blend around the edges well.
I absolutely loved the first color I tried Intense Coral which has great color payoff for a sheer natural looking blush. For the other shades my thoughts below:
Light Pink

and

Light Peach

are so pale and sheer they did not show up on my skin tone (I'm the equivalent of MAC NC35, all my foundation shades in this post here)

Warm Pink

has a bit more color but it still barely shows up, just gives me a natural almost skin-like glow

Intense Coral

is the best I tried, it's a gorgeous coral shade

Deep Apricot

has good pigment, but the color pulls orangey on my skin, it's not bad, but orange just isn't really my color

Deep Bronze

is a sheer brown, it has enough pigment to show up, looks very natural
Chanel Water-Fresh Blush in Warm Pink + Le Rouge Duo Ultra Tenue in 166 Timeless Beige
________________
Chanel Water-Fresh Blush in Intense Coral + Rouge Allure L'Extrait in 812 + Rouge Coco Baume in Flirty Coral mixed
________________
Chanel Water-Fresh Blush in Deep Apricot + Rouge Allure L'Extrait in 814
________________
Chanel Water-Fresh Blush in Deep Bronze + Anastasia Beverly Hills Lipstick in Soft Brown
Out of all the blushes I like Intense Coral and Deep Bronze the best. I really like the concept of a fresh glow, but I just wish the three lighter shades had the same level of pigment as the deeper colors.
Bottom line: I love the new Les Beiges Water-Fresh Complexion Touch and the Water-Fresh Blush in Intense Coral. The foundation has held up remarkably well on my skin even in hot humid weather (when set with powder, which I always do). If I had one negative thing to say about these it would be that they're pricey for the size. Granted I've been doing some demos and swatching with these, but I'm nearly 1/3 of the way through the foundation. I would have loved it in a larger size just like the original version.
You can find both the Les Beiges Water-Fresh Complexion Touch and the Water-Fresh Blushes online at Chanel.com. If you have a Chanel boutique or beauty boutique near you I highly recommend calling to check if they have any of the blushes in stock.
Have you tried these yet? What did you think?
[ad_2]

Source link