[ad_1]

Does arguing with each other make friendships stronger? Well, seems it might be a little difficult when you are in Big Brother's house.
On entering Big Brother's house, Amaka and Phyna vibed with each other but it seems it is just temporary vibing as they are now on each other's neck with insults.
It all started in the lounge while they were chilling and Phyna asked Amaka who she was going to please with her actions while in the house.
Phyna started by telling Amaka that she would please the viewers because they will vote for her. Amaka, in response to her question, said she would like to please both the housemates and the viewers.
And this is where the flames of "vawulence" ignite as her answer did not sit well with Phyna who told Amaka that she can't choose the housemates because they won't be loyal to her. And that's how their argument started as they spoke at the top of their voices.
Amaka argued that Phyna should stop telling others what to do and she should allow her to be herself. The spirit of vawulence said it is time as Phyna calls Amaka a snitch and this led to Amaka recalling when Phyna said she was ready to take down her fellow Level 2 (known on social media as the "blue house) housemates.
Furthermore, Amaka called Phyna skinny after the latter had called her a rat to which Amaka said she couldn't be a rat because she is fat. Amaka's comment led Phyna to accuse her of body shaming.
Instantly, Bryann and Beauty came in rushing with the 'peace' flag but since 'vawulence' can not be destroyed, the two kept on raising voices at each other.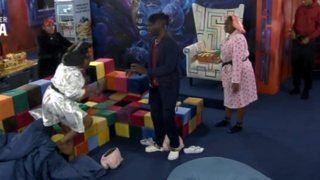 During their workout session in the garden, Amaka had a rant session with Kess and Daniella saying she will never be intimidated by anyone. She recalled the quarrel saying she didn't know Phyna would take what she said serious and concluded Phyna was out to use her to shine.
Source: www.glamcityz.com


[ad_2]

Source link