InvestorPlace – Stock Market News, Stock Advice & Trading Tips
For over a year now, I've been pounding on the table about Crocs (NASDAQ:CROX) , saying that the "ugly" sandal maker is a having a seminal moment in fashion and that the brand is on the cusp of becoming the next big thing in the footwear world. Indeed, I've even said that CROX stock is turning into the next Nike (NYSE:NKE).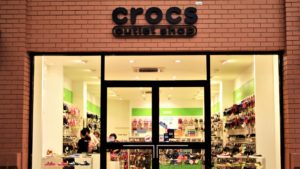 Source: Wannee_photographer / Shutterstock.com
Ostensibly, it's a bold claim. And it has naturally been met with tons of skepticism.
But guess what?
It's also been an enormously profitable claim to date. CROX stock currently trades at decade highs, and is up 63% over the past year, 145% over the past two years, and 390% over the past three years.
The Crocs fashion wave won't end anytime soon. Nor will the huge gains in CROX stock.
So buy CROX stock. Long-term, this is a winner with enormous multi-year upside potential.
Here's a deeper look.
Fashion Trends and CROX Stock
Fashion trends come and go. We all know that. Fashion trends are notoriously fickle. Over the past few decades, we've gone from the tight-and-bright spandex of the 80s, to the graphic tees of the 90s, to the joggers of the 2000s.
By extension, fashion stocks rise and fall, often with extreme volatility.
When the trend is their friend, fashion companies see their sales, profits and stock prices soar. When the trend changes direction, those same companies see their sales, profits and stock prices plummet.
Every once in a while, though, you get a fashion trend that "sticks."