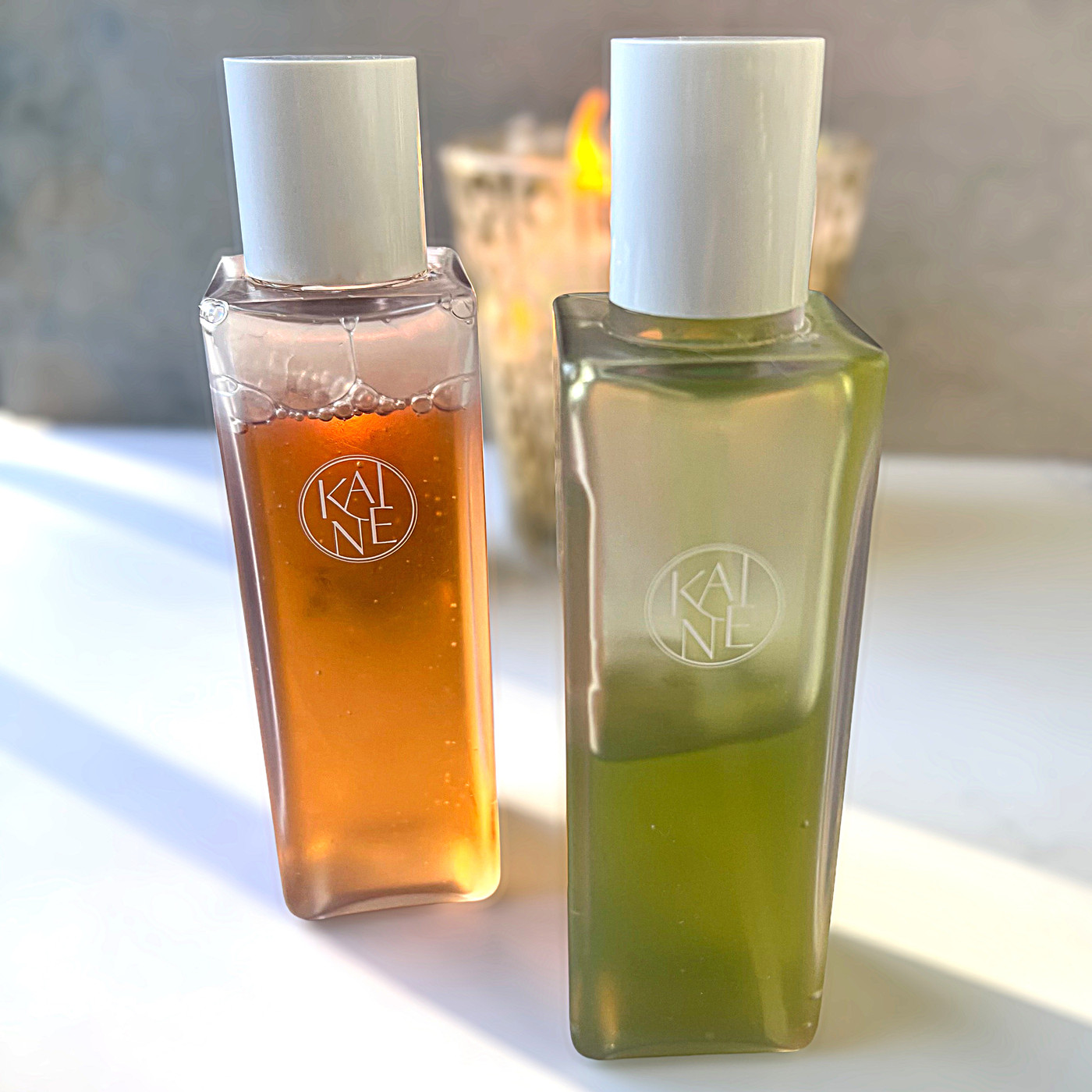 Have you heard of the K-Beauty brand KAINE?  This is a vegan skincare brand whose name means new in Greek, and their products are formulated with EVE VEGEN certified ingredients.  KAINE is also known for its stream-lined, minimalistic packaging, using  recycled plastic and glass to help our environment.  Cruelty-free, KAINE also donates part of their profits to animal rights organizations and are an up and coming brand.  They have several skin care products and I chose their  Rosemary Relief Gel Cleanser and Kombu Balancing Ampoule Toner, as I feel that toners and cleansers are a great way to test out a new brand without investing a lot of money.  I also like sheet masks as well, but KAINE doesn't have any facial sheet masks at this point.  Jolse Cosmetic, a premier K-Beauty online store, sent me these products for review purposes.
Skin Type/Concerns: oily, blemish prone, dehydrated, aging concerns, pores, fine lines/wrinkles, hyper-pigmentation
I received these products complementary to review and was not paid.  All reviews are my own honest opinion and  I never have been asked to write copy for a brand.  This blog post might contain promo codes, affiliate and referral links, which using my links will help generate a small commission that helps support my blog at no extra cost to you.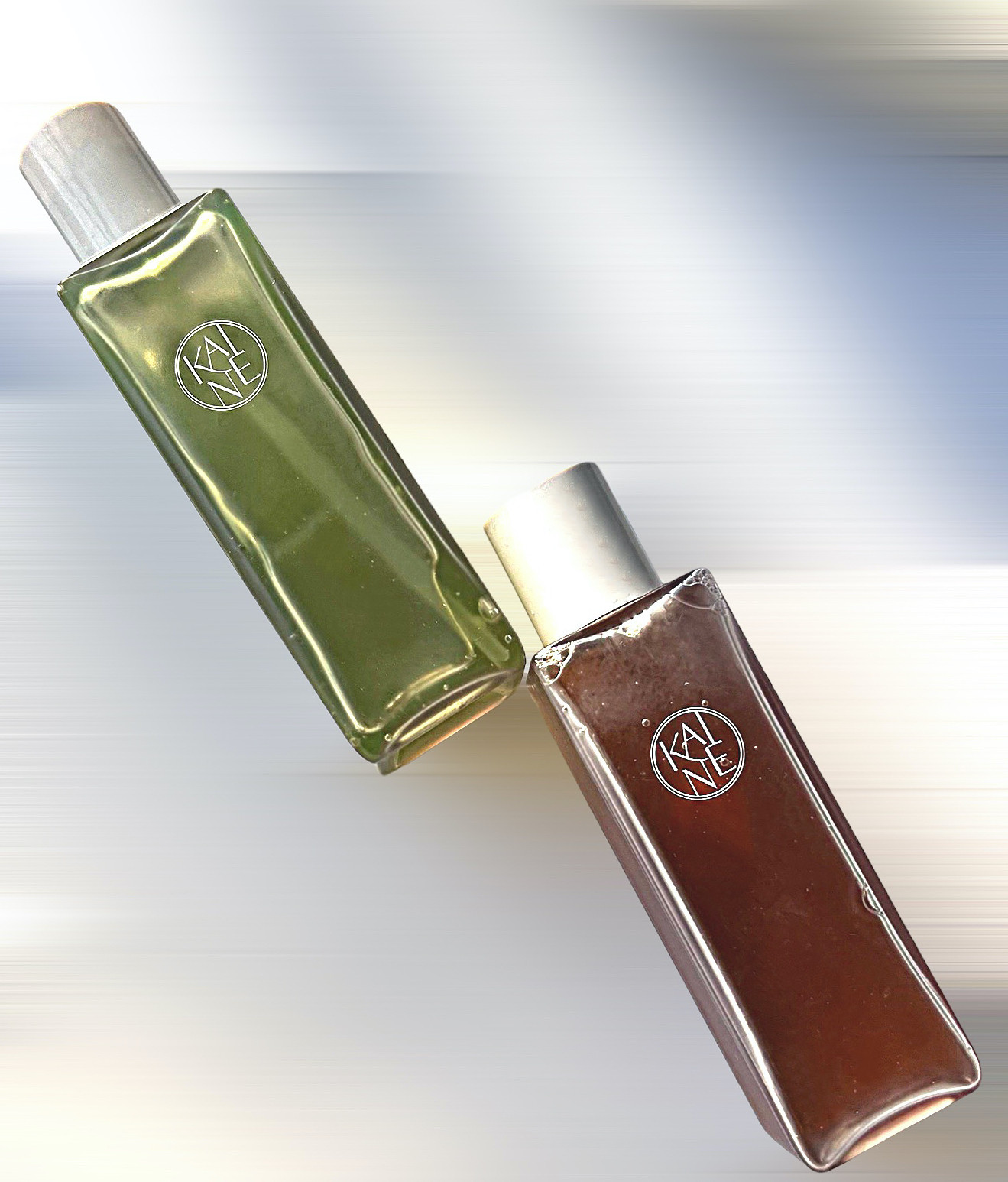 Before I get into these products, some readers ask me why I link to cosDNA for the ingredients list.  I am not linking to it EWG or "clean" standards, but more of a breakdown category of what the ingredients do. I don't list every function of an ingredient here, but if you click on the cosDNA link after the list of ingredients, you can see the breakdown.  For example, what is tetradecene doing in my skin care?  cosDNA will tell you its function is "Solvent, Viscosity Control, Emollient".  I find that to be helpful and pretty much ignore the safety column.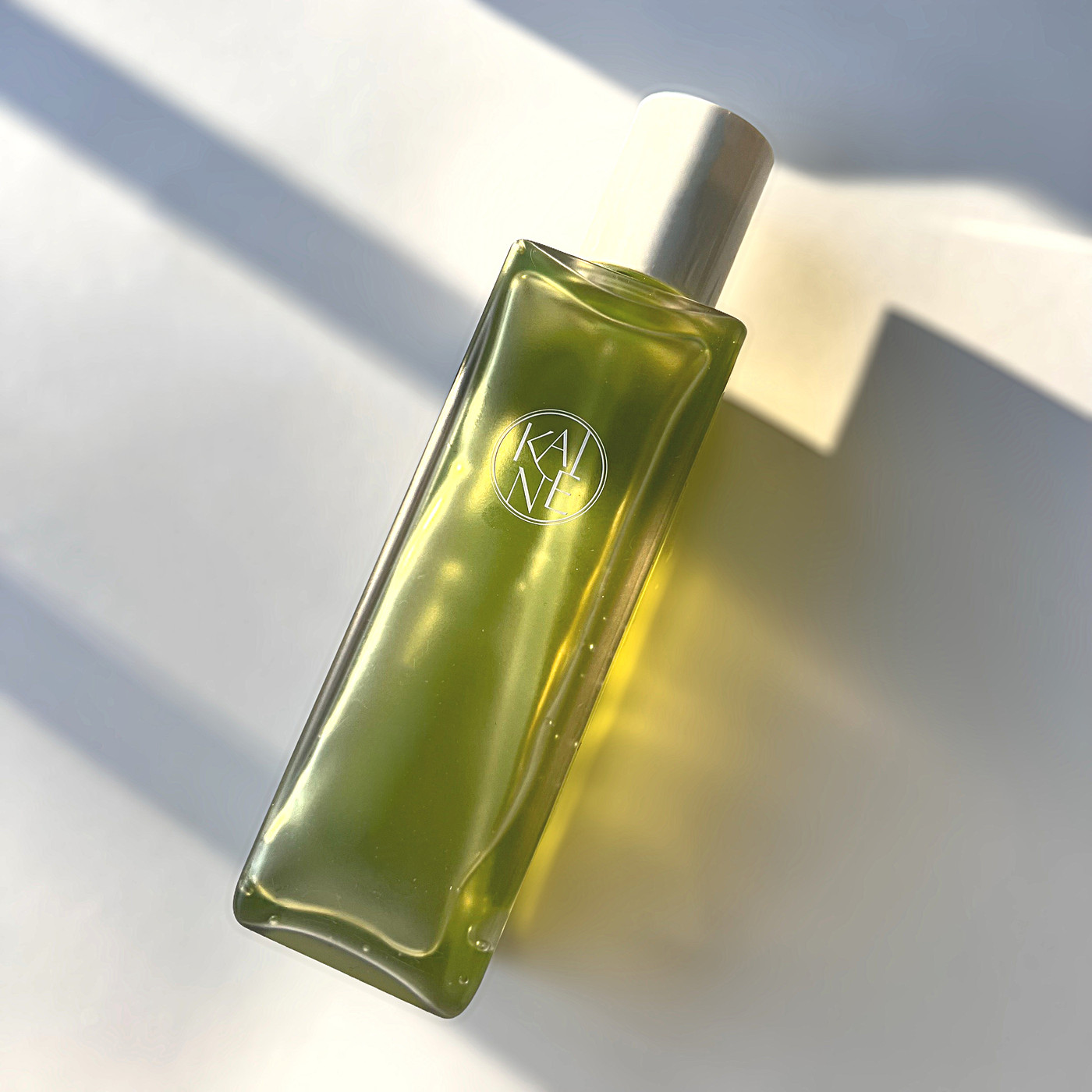 Rosemary Relief Gel Cleanser is a match for my skin type and has so many ingredients that are great for oily and blemish prone skin, without stripping it dry.  This contains 5% rosemary leaf extract, which is an anti-septic, antimicrobial and antioxidant, helping to unclog pores, prevents bacteria from infecting pores, acts as an astringent, prevents blemishes, supports collagen growth while balancing and toning the skin. Rosemary is a favorite ingredient for those us of us with larger pores, blackheads, acne and oily skin as it is rich in tannins and flavonoids.  Another favorite for pore care is BHA salicylic acid, which this cleanser has .45%, helping to unclog pore of dead skin cells, excess sebum and debris.  Neem has antiseptic properties and will help control blemishes and help them while a Green Complex consisting of superfoods, antioxidant-rich broccoli, spinach, mugwort, cabbage and okra help soothe  the skin.
A triple hyaluronic acid complex of hyaluronic acid, hydrolyzed hyaluronic acid and sodium hyaluronate, keeps your skin hydrated while anti-inflammatory panthenol is a natural humectant, helping to retain moisture and hydrates the skin.  Allantoin moisturizes, exfoliates and softens skin,  while reducing and relieving irritation.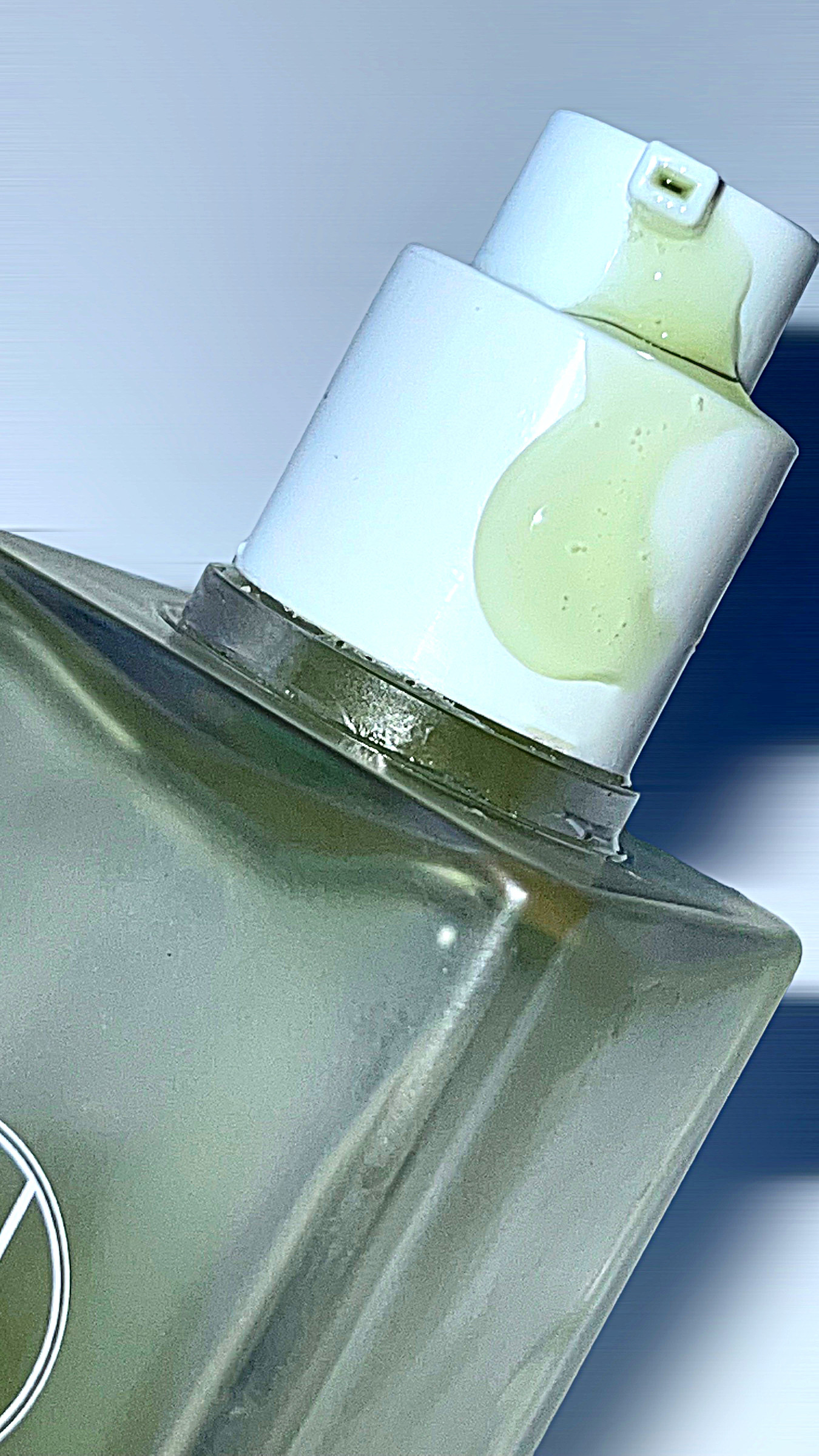 This cleanser has several surfactants, most of which are excellent ~  coconut derived, non-comedogenic coco glucoside is ultra gentle and mild, coco-betaine foams up nicely into a creamy thick later, while leaving skin hydrated, disodium coco-glucoside citrate is a mild, anionic surfactant  that gently cleanses and is so mild that it is safe for babies, decyl glucoside is a non-ionic surfactant that foams up nicely and is good for sensitive skin and lauryl glucoside also has great lather.   The only fly in the ointment is sodium C14-16 olefin sulfonate, which is a biodegradable cleanser that cleans very well and foams up nicely, but it is considered to be a harsher surfactant.
This also has patchouli, rosemary and mugwort oils in here, so that will give this a nice herbal scent.
Ingredients: Water, Sodium C14-16 Olefin Sulfonate, Glycerin, Acrylates Copolymer, Butylene Glycol, Propanediol, Coco-Betaine, Rosmarinus Officinalis (Rosemary) Leaf Extract, Tromethamine, Coco-Glucoside, Tetradecene, Potassium Benzoate, Salicylic Acid, Sodium Chloride, Citric Acid, Hexadecene, Lauryl Hydroxysultaine, Pogostemon Cablin Oil, Disodium Coco-Glucoside Citrate, Decyl Glucoside, Sorbitol, Polyquaternium-67, Rosmarinus Officinalis (Rosemary) Leaf Oil, Artemisia Princeps Leaf Water, Panthenol, Disodium EDTA, Melia Azadirachta Leaf Extract, Artemisia Vulgaris Oil, 1,2-Hexanediol, Melia Azadirachta Flower Extract, Brassica Oleracea Capitata (Cabbage) Leaf Extract, Brassica Oleracea Acephala Leaf Extract, Hibiscus Esculentus Fruit Extract, Hyaluronic Acid, Hydrolyzed Hyaluronic Acid, Sodium Hyaluronate, Apium Graveolens (Celery) Extract, Asparagus Officinalis Extract, Spinacia Oleracea (Spinach) Leaf Extract, Brassica Oleracea Italica (Broccoli) Extract, Cucumis Sativus (Cucumber) Extract, Lactuca Scariola Sativa (Lettuce) Leaf Extract, Allantoin cosDNA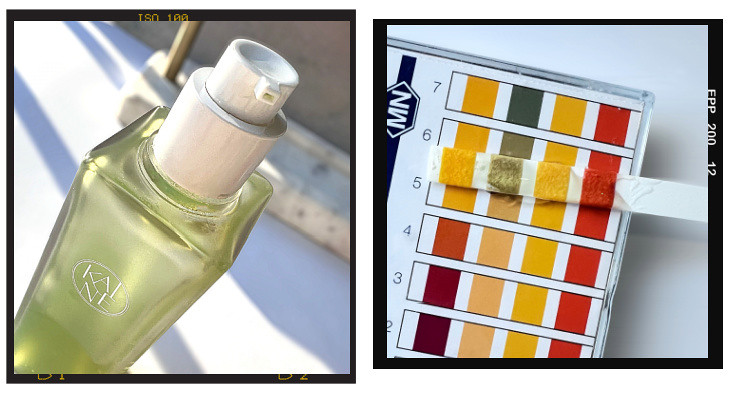 I love the packaging on this bottle ~  It is a plastic, but looks like frosted glass.  The bottle is made from 30% PCR (Post-Consumer Recycled) PET (polyethylene terephthalate). The translucent gel is a pretty moss green shade and smells like fresh picked rosemary, which is a very refreshing scent.  This has a pH level of 6,  making this a mildly acidic cleanser.

This foams up nicely with all of those surfactants and despite sodium C14-16 olefin sulfonate in here, it was not stripping at all to  my skin.  The BHA is mild enough for those who cannot handle a higher level of BHA but contains enough to help unclog pores.  My skin does feel so nice and refreshed afterwards, hydrated, not stripped dry but also keeps my oils under control.   This is one of my favorite cleansers that I have tried so far this year.   I totally recommend it!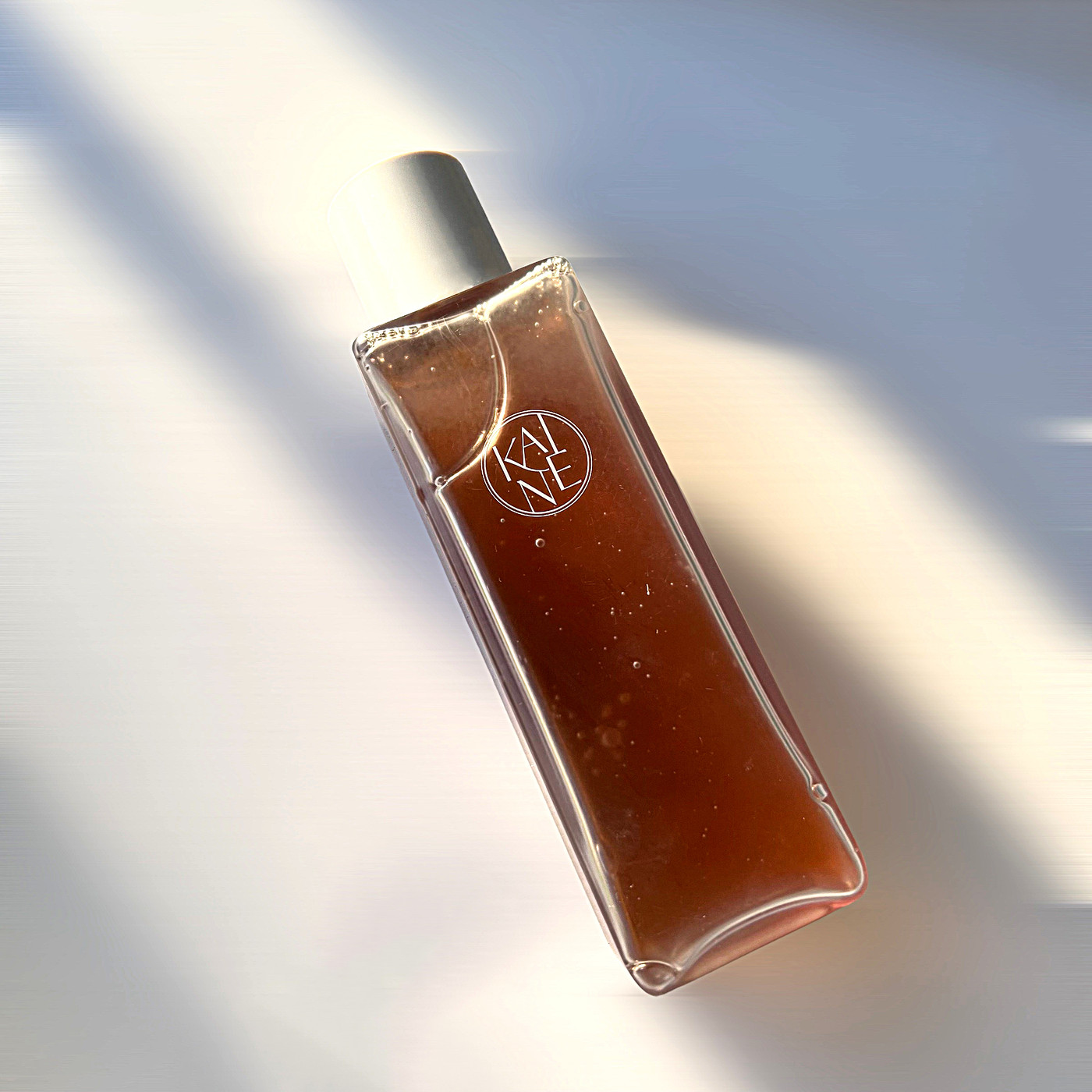 Kombu Balancing Ampoule Toner was one of the first products I wanted to try from KAINE. Made with 60% kombucha, which is  green tea,  harvested from Jeju Island, fermented with lactobacillus and brewer's yeast~ camellia sinensis leaf extract + saccharomyces ferment filtrate  ~  full of both pre and pro-biotics.  This is brewed using an eco-friendly fermentation method at temperatures from 25-35 °C/77-95°F for 72 hours.  Fermented black tea is full of antioxidant catechin, helping to improve the clarity of your skin ~ think zit healing;  texture ~ think smoothing and soft, and  elasticity, while its pre-botiotics polyphenols help with anti-aging concerns, repairing and rejuvenating the skin.  It also has organic acids, sugars, vitamins and polyphenols, and contains eight times more vitamin C than lemons
This also has glyceryl glucosides, which help with relieving irritation, dry skin and increase skin elasticity  along with a slew of humectants that help draw and bind  moisture to your skin: glycerin, glucose and an 8 hyaluronic acid complex of different molecular sizes so it can hydrate both the outer and inner layers of your skin.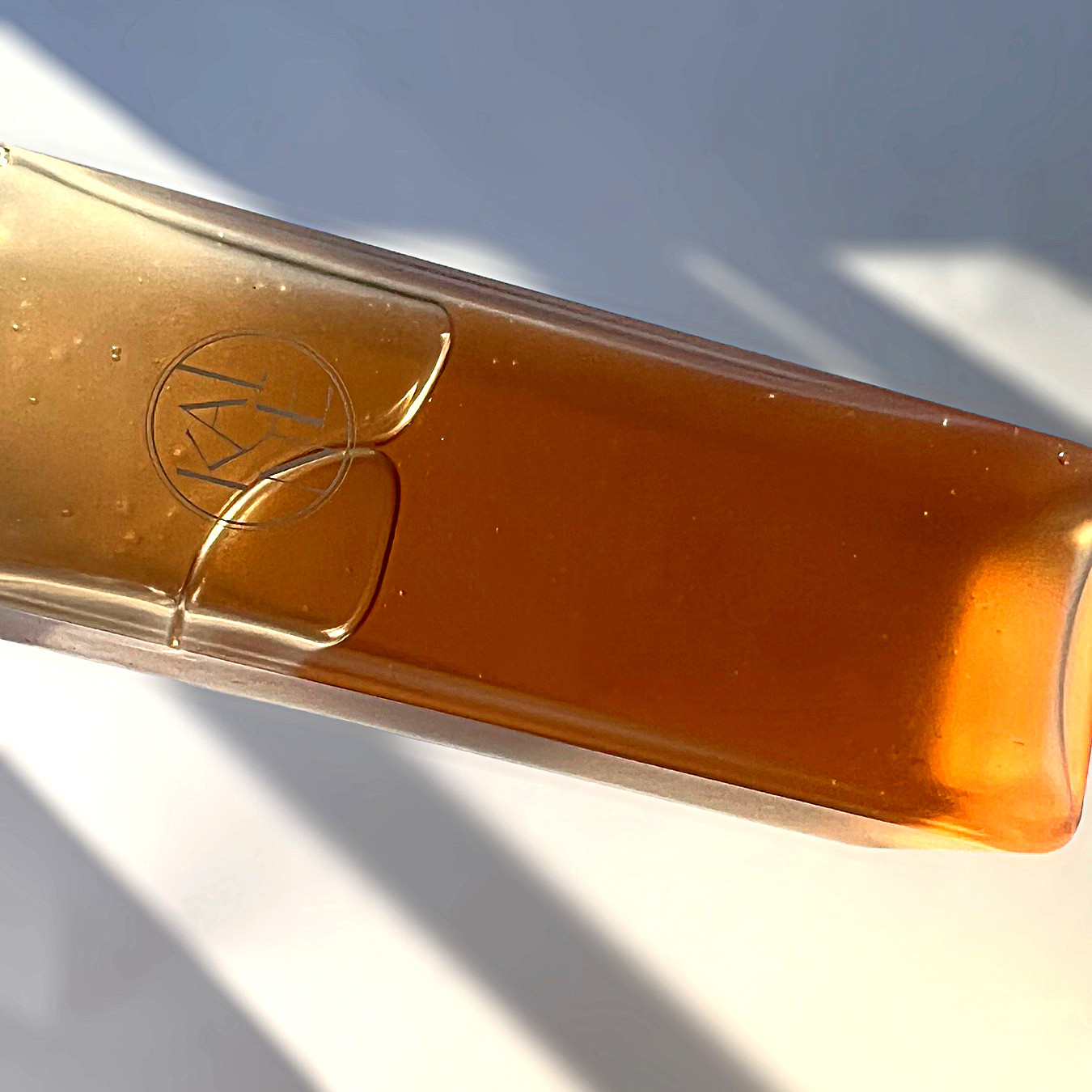 1% anti-inflammatory panthenol helps cellular renewal and is a natural humectant, retaining moisture and hydrates the skin. It also is a good lubricant on the skin, making skin look soft and smooth. Beta glucan is a compound that is naturally derived from mushrooms, oats, yeast and grains.  It is 20% more effective than hyaluronic acid and it helps stimulate the production of collagen.  It also speeds up wound healing, soothes and calms skin due to its anti-irritant and strong anti-inflammatory properties.  Beta glucan will moisturize, locking in natural moisture and is an anti-aging and anti-wrinkle ingredient due to its anti-oxidant properties, while helping to repair your moisture barrier
Ingredients: Saccharomyces/Xylinum/Black Tea Ferment(60%), Water, Propanediol, Glycerin, Dipropylene Glycol, 1,2-Hexanediol, Betaine, Glycereth-26, Chondrus Crispus Extract, Saccharum Officinarum (Sugarcane) Extract, Theobroma Cacao (Cocoa) Seed Extract, Cynanchum Atratum Extract, Sodium Hyaluronate, Althaea Rosea Flower Extract, Hydrolyzed Hyaluronic Acid, Hyaluronic Acid, Panthenol(1%), Hydroxyethyl Urea, Glyceryl Glucoside, Acrylates/C10-30 Alkyl Acrylate Crosspolymer, Ethylhexylglycerin, Butylene Glycol, Tromethamine, Dextrin, Allantoin, Glucose, Beta-Glucan, Hydroxypropyltrimonium Hyaluronate, Tocopherol, Sodium Acetylated Hyaluronate, Hydrolyzed Sodium Hyaluronate, Sodium Hyaluronate Crosspolymer, Potassium Hyaluronate cosDNA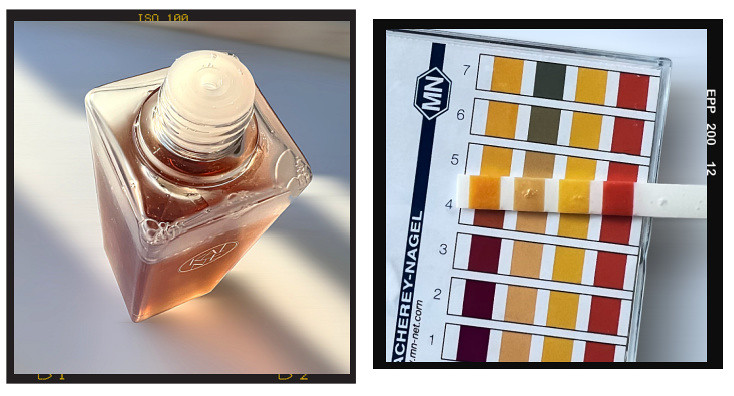 This has a similar look to the cleanser, only this time the cap is a twist off ~ the cleanser is a pull off cap.  The toner bottle has a pin hole applicator and the color is a rich brown shade ~ looks like tea!  There is no fragrance with this one, much to my disappointment.  I was hoping for a tea scent :D.  The texture is very watery, with a mildly acidic pH level of 5.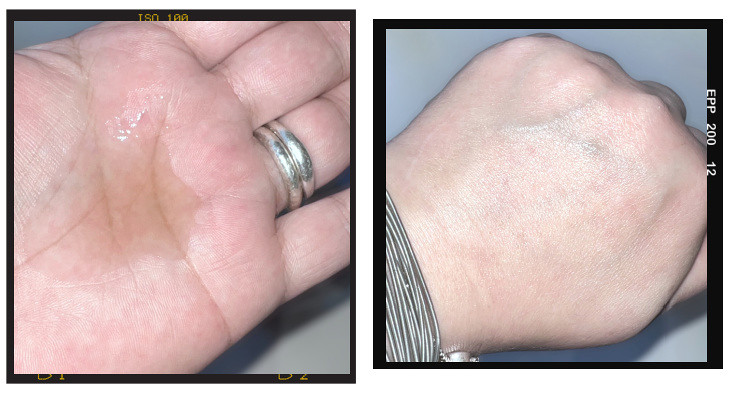 I love this toner! While it is very watery, it has an oomph to it that makes it very moisturizing, yet it quickly absorbs into my skin.  It really helps soothe my skin, and helps with healing my hormonal acne.  My skin is very soft and supple with this toner, no greasy or sticky residue or long dry down times.  I also like to soak from cotton pads and apply on my face for 5 to 10 minutes, helping to really soothe any irritated skin.  I am such a fan of fermented products and kombucha is one of my favorite ingredients in the ferment family as it works really well on my skin.
Where to Purchase
Jolse carries several items in the KAINE line   and they are quite affordable 

All prices are in USD ~   Jolse offers free global shipping plus gives a lot of samples out ~ the more you purchase, the more samples you get! Please note that the prices do fluctuate a little bit due to the WON to USD exchange rates. Make sure to check your coupon zone (click here) for money saving discounts. You need to log into Jolse first, then download the coupons before you use them.  Their coupon savings has recently changed and your savings is now tied into how much you spend there, so make sure to check it  out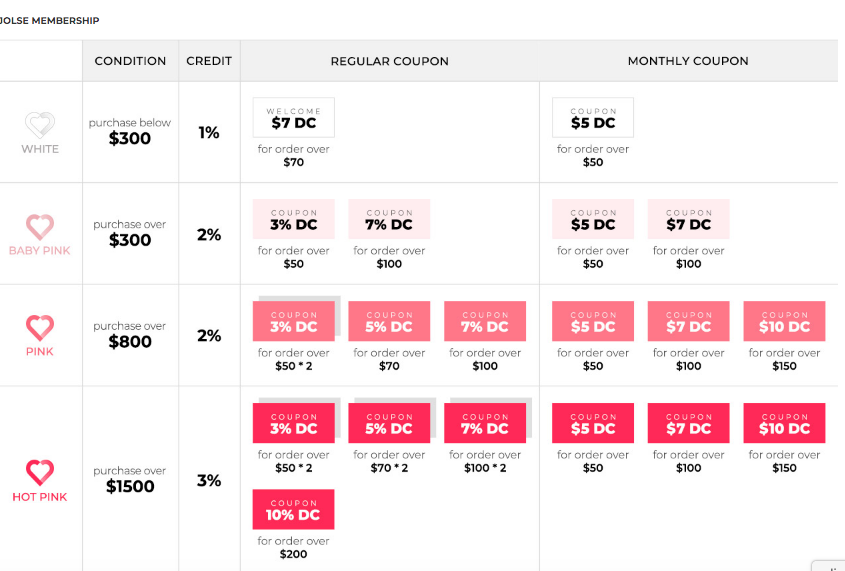 [ products received for review purposes.  blog post contains affiliate links ]