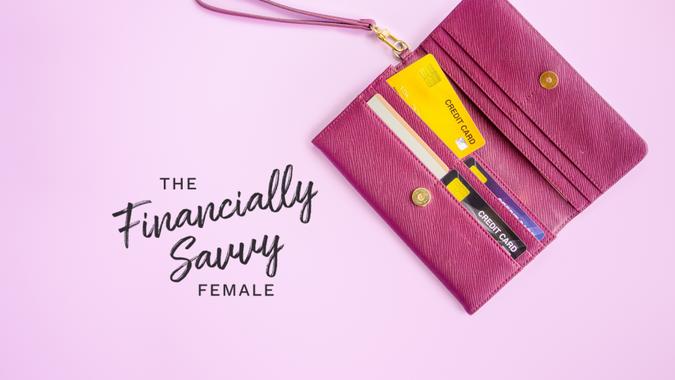 TongTa / iStock.com
We've all seen the movie where the woman walks into her closet and is met by a staggering array of shoes. So many shoes! Most of them are heels that look difficult to maneuver in, and many look like they probably cost more than her monthly rent. She's got a lot of other items, too — blouses, skirts, suits and an arsenal of dresses for every occasion (indeed even for the same occasion). She has more than she needs of everything and yet never enough of anything. 
This isn't just a movie — for many women, it's an unromantic reality. 
Read More: How Much More Women Spend on Haircuts, Mortgage Loans, Cars and More Thanks to the 'Pink Tax'
Tips: 5 Easy Financial Habits Every Woman Should Pick Up
According to a survey by CreditDonkey, women spend nearly 76% more than men do on clothing in a year. Why? As a woman who pours out a wild amount of money on clothes and shoes, I can tell you that on one hand I just really like shopping. There's a thrill in the hunt for bargain prices and hidden gems. It's enormously satisfying to be asked, typically by another woman, "Where did you get that?!" just as it's oh so fulfilling to don a dress that I haven't yet worn on a sunny new day. But there are definitely financial repercussions to keeping our wardrobes fully stocked.
Buying So Many Outfits Is Fun — But It's Also Financially Toxic 
There's a darker thread running beneath the seams of my shopping bliss. As a woman, I make, on average, less than a man and yet I spend more — not only on nonessentials like heels and dresses but on must-haves like feminine hygiene products and birth control. Then I've got the pink tax on top of all that. And though the shopping part feels like fun on the surface, my motive for buying heaps of apparel has a sticky complexity to it; in part, I am shopping 'til dropping because society both loudly and silently tells me to. 
It's all part of a greater narrative that tells women they need to do more and be more in order to be taken as seriously.
"Women need to balance a number of expectations that men do not," said Rosalind Chow, associate professor of organizational behavior at Carnegie Mellon University's Tepper School of Business. "They need to be competent, warm and attractive, all at the same time. Interestingly, attractiveness appears to be more strongly related to grooming among women, but not for men — meaning, men's attractiveness is primarily based on physiology, which they have less control over. In contrast, women's attractiveness is based more on factors they can control, such as hairstyle, makeup and dress."
There Are Usually Lower Expectations on Men
There can be a lot of pressure on women to be dressed to perfection at all times, while men are often permitted by society to be less polished and just "clean up nice" when needed. 
"One reason women spend [up to] three times more than men on clothes and fashion each year is the lower expectations for men's fashion and overall appearance," said Kimberly Mayhew, U.S. managing director for House of Colour, an image and style consultancy firm. "When men begin their professional endeavors, they have a few variations of different button-downs, suits, ties and a pair of dress shoes. It will last them a long time. Women are inclined to have multiple pairs of shoes, sweaters, trousers, blazers, blouses and dresses, and maintain other unspoken beauty norms like manicures and makeup. On top of this, women pay a pink tax on their clothes and spend more on professional pieces than men."
It's on the shoulders of society to dismantle its sexist messaging that informs women to spend more than men in order to be taken as seriously. That said, there are a few ways to stay under budget without feeling like you are forsaking fashionability and that distinctly adrenalizing knowledge that you look damn good. 
Discover: 3 Alarming Ways Women Are Lagging Behind Men When It Comes to Their Finances
How To Save on Your Work Wardrobe
Whether you feel pressure to keep up with society's demands — or just love to shop — there are ways to save on your work wardrobe.
Shop Secondhand 
I imagine that even if society were to one day radically assert that all humans need only wear a standard uniform to work, negating the need for a professional wardrobe, I'd still like to buy clothes. And I'd still probably buy too many. Women (and men!) like me should consider shopping secondhand.  
"Tons of secondhand items being resold are brand new, less expensive than retail prices and come with the added bonus of price negotiation, making shopping secondhand an affordable option for most everyone," said Eirik Rime, CEO of Tise, a Norwegian buying/reselling platform and social marketplace. "Using online secondhand platforms, frequenting your local thrift stores and following sellers on social platforms are great ways to make thrifting exciting and accessible."
Embrace the Capsule Wardrobe
"Embrace the capsule wardrobe; that is, pick a comfortable shirt, pants (or skirt) and a blazer, if necessary, and buy enough of those items to get you through a workweek," said Julie Ramhold, consumer analyst with DealNews.com. "Purchase five of the same shirt and five of the same bottoms, then two to three of the same blazers. Not only does this take the worry out of what to wear to work, but it also streamlines your wardrobe."
Shop the Sales To Stock Up
"You'll likely need basic button-ups, camisoles, and pants or skirts for your wardrobe, so stock up on these basics when they go on sale," Ramhold said. "Even if you want to add a little flair to your outfits, you can still shop for blouses and other work-appropriate items when they see deep discounts as well."
Stick To Simple Accessories
"Men are lucky in that they usually don't have to worry about accessories — they need one solid pair of shoes and maybe a small selection of ties to wear to work," Ramhold said. "Women, however, usually have to find handbags, shoes and jewelry, if not other accessories to go with their outfits."
To add that special something to a look — without spending more than you'd like — it's best to stick to simple items that will always look good with every type of outfit. 
"Things like stud earrings in silver or gold or silver with clear gems, necklaces that don't have eye-catching pendants and things like cuff bracelets with versatile designs," Ramhold said. "Keep work bags to neutral colors that will go with any outfit, and do the same for shoes — in other words, black and gray are usually pretty solid options."
More From GOBankingRates