LAKEVIEW — When Megan Morrison was unsure of her decision to drop out of speech pathology school to pursue her interest in fashion, it was her grandfather, Charlie Arie, who reassured her.
"I would talk to him about it because I really didn't know if it was the right thing to do at the time, and he used to hug me in the driveway and say, 'Don't worry. You'll have your own store someday,'" Morrison said.
Those dreams will come true Saturday with the opening of Morrison's first boutique, Love, Charlie, 3352 N. Paulina St. The store, named after Morrison's grandfather, pays tribute to Arie, who died in 2009. There are photos of him placed throughout the boutique.
"He and I had a really special relationship, and although he's no longer here, I think he's watching down and smiling to see me finally opening my own store," Morrison said. "I named the store after him because I felt like this was his way of signing off to the dream."
Morrison got her start in the fashion industry 25 years ago working at a boutique in her hometown of Watseka, Illinois. She worked her way up through retail jobs before landing the role of director of sales and merchandising at Chicago's Henry & Belle Premium Denim.
Morrison will continue working at Henry & Belle while managing Love, Charlie, she said.
Love, Charlie specializes in women's apparel, accessories and gifts with prices ranging from more affordable to pricier items.
"I have sweaters that start at $48 and cashmeres that go up to $248. I don't want anyone to walk in and feel like they can't find something here," Morrison said.
Morrison said she wanted to create a space for women where they can feel comfortable trying on clothes and leave with something they feel happy in.
"A lot of women aren't comfortable shopping, and I want to make this an easy, enjoyable experience for them," Morrison said. "I've already gotten a text from a client with the nicest message that said, 'I haven't been feeling good about my body lately, and everything I bought in your store has put a smile on my face.'
"That's what I want."
For now, Love, Charlie will be open 11 a.m.-6 p.m. Monday-Friday, 10 a.m.-6 p.m. Saturdays and 11 a.m.-5 p.m. Sundays. The store's hours will be adjusted once Morrison gets a sense of when people would like to do their shopping, she said.
The store's grand opening celebration begins 10 a.m. Saturday and will feature 15 percent off all items, as well as assorted bites and drinks for people to enjoy.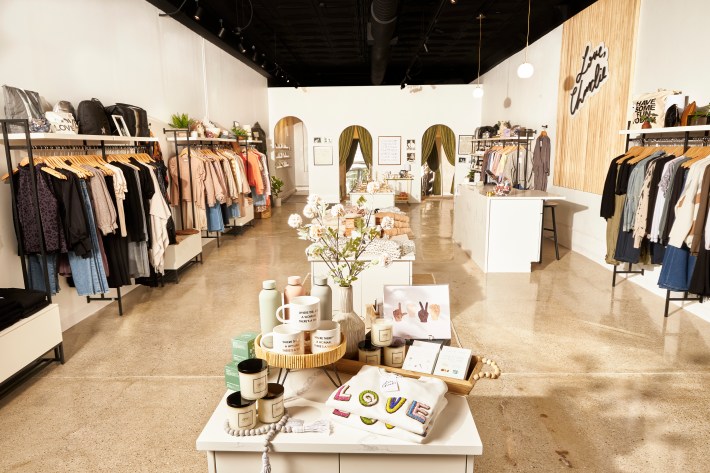 Jake Wittich is a Report for America corps member covering Lakeview, Lincoln Park and LGBTQ communities across the city for Block Club Chicago.
Listen to "It's All Good: A Block Club Chicago Podcast" here: